Price Information: Currently $135 for a 3 month follow-up
This is a hybrid insurance-cash practice. Patients pay an cash fee for the appointment at the onset. You get an email receipt instantly, and later the office will email you a prefilled insurance reimbursement form (PDF) afterwards that you print and mail. That arrives within a day or two. All the coding information is already placed in the correct spot. There is no added work on your end. Just print and mail. You have a chance for reimbursement IF you have out-of-network benefits. Reimbursement can cover none, some, or all of the appointment depending on your specific plan and things like deductibles, etc.
Prices are the following: $275 for the first initial appointment which is 60 minutes, then $137.50 for 30 minutes follow-up appointments. Half the time, half the price. Again, that's before out-of-network insurance reimbursement, which depends on your specific plan. We give you all the forms needed (just two). All you do is print and mail them, and reimbursement, if available, comes as a check from your health insurance carrier in about 4 weeks. You might want to call your health insurance carrier first so you know if you have out-of-network coverage. Otherwise, you could just pay the cash rate instead.
My goal is to eventually see you for 30 minutes every 3 months, so outside of the first evaluation, each appointment basically costs you $135 total for 3 months of prescription coverage. ($45 per month). That cash price is almost identical to paying a specialist co-pay even WITH your insurance, so the difference is negligible.
Appointment times: I don't believe you can have a quality appointment that leaves much time for discussion in 5, 10, or 15 minutes. All initial appointments are 60 minutes. All follow-ups are 30 minutes. Quality > quantity. I don't like being rushed, and I don't like my patients to experience that feeling, either. I try to follow the 'Golden Rule.'
Crisis & Emergency Services, House Calls
Having a mental health emergency on the weekend? I'm available for special appointments via Zoom. Just text me at 757-219-2753 and we can discuss the details. I'm available for house calls, also, in a similar fashion. Please text me for more information. I can't promise I will answer every text, so if you don't hear back from me quickly enough, please go the nearest Emergency Room for immediate help
Cancellation Policy
You must let me know within 48 business hours of your appointment if you aren't going to be at your appointment. Otherwise, a no-show counts just like a regular appointment and is billed just like a regular appointment. That is because I need some time to give your space to someone on the waiting list and coordinate them into the schedule. Since there are 1) multiple text reminders, 2) you can check your appointments and reschedule at your leisure at www.mymedicallocker.com, and 3) we always discuss your next appointment time/date at your previous appointment, this really should never come up. Obviously, if you have an emergency or extenuating circumstances, please text me at 757-219-2753. If you no-show your appointment, you must reschedule and make another one through the portal. I can refill your meds only if you are out and have made another appointment and will give you enough to get to that appointment.
Superbill Payment Info
Quickbooks handles all credit card transactions with encryption. I have an additional cyber-insurance policy I bought on my own as well.
Appointments (all medication and therapy combined): Initial: 60 minutes, $275. Follow-ups: 30 minutes, $137.50. Reimbursement forms and receipts are emailed to you within 24 business hours, automatically, for free.
Medication Changes Outside Appt: $25 for 1-2 prescriptions, $50 for 3+.
School Medication Form: If done during the appointment free. If outside, $50.
Other Forms (like FMLA, Disability, Support Animals, Accomodation Requests): To be discussed depending on complexity.
Emergency / Same Day Appointments: $50 extra per half hour.
Work or school note: If done during the appointment free. Starting at $50, increasing depending on complexity. Will give you an estimate.
Other work (court fees, contact w/ attorneys, miscellaneous. items): TBD
Marijuana Prescription outside appt: $75, during appt $25
Medicare patients: Unfortunately, Medicare specifically is cash-only. They actually have specific forms you must sign agreeing not to seek reimbursement. I can still help you, but at the cash-price. This only applies to Medicare.
FORMS EMAILED TO YOU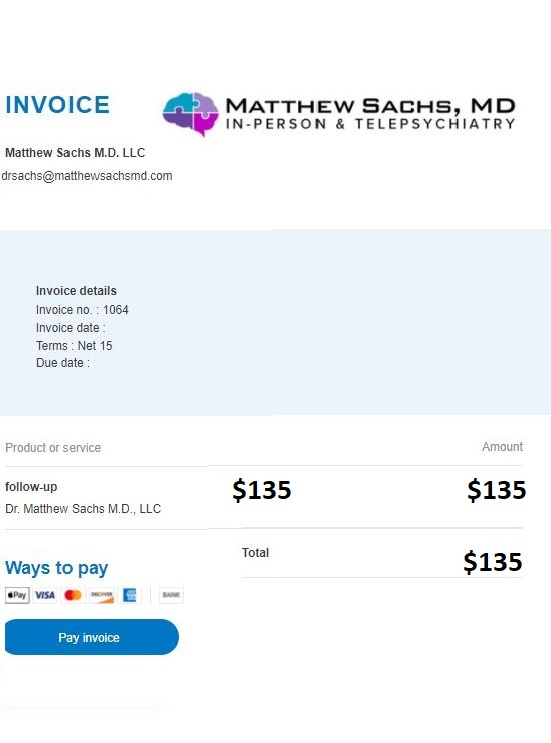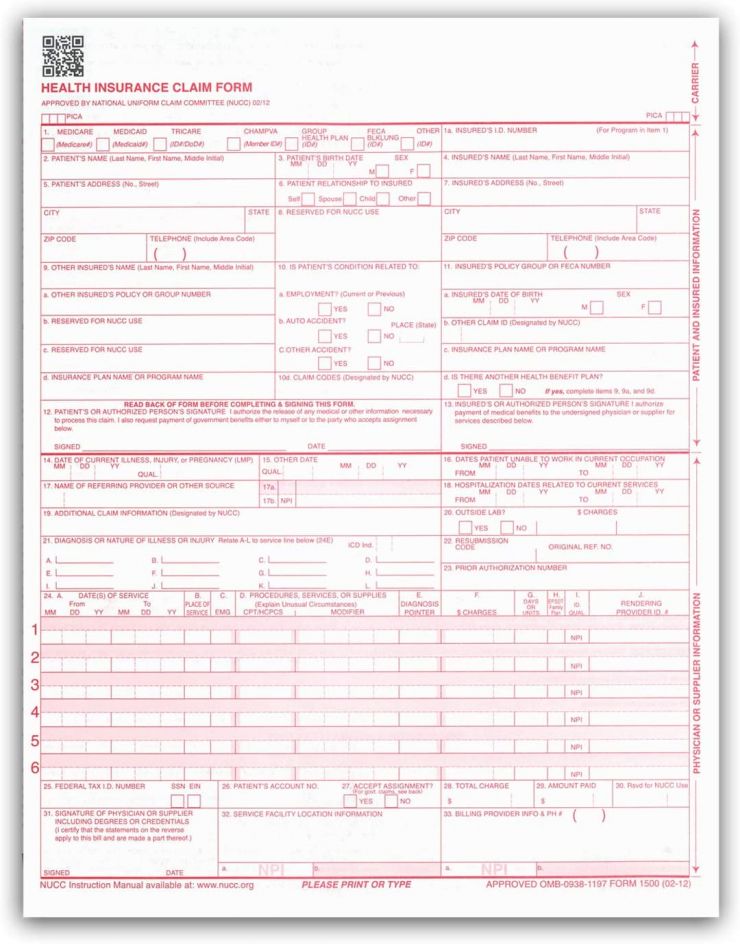 ACTUAL PATIENT REIMBURSEMENT CHECKS
PULL DOWN ON THE "UP" ARROWS TO SEE THE ACTUAL CHECK AMOUNTS
Patient A: $175 for 30 min appt. Optima reimbursed $156.25. Net cost: $18.75.

Patient B: BCBS FEP gave "C" a $302.05 check for a $350 appt. Net cost $47.95.

Patient C: Received a check from Anthem for $140 for $175 appt. Net cost: $35.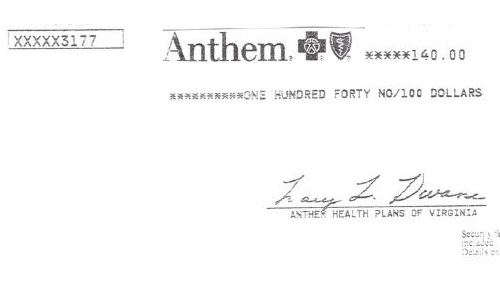 Patient D: Received a check from Tricare of $75 for a $175 appt. Net cost: $100.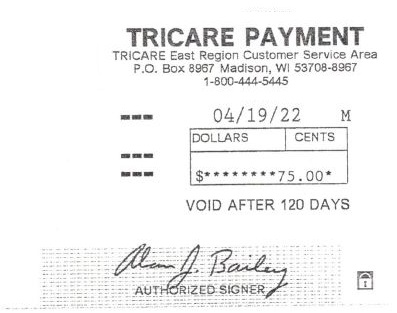 From Optima:
Patient J: $690 out of $700 = total cost of $10 TOTAL for 3 appointments.
Patient K: $175 out of $175 = $0 spent. Follow-up appointment 100% completely reimbursed by Optima.
Patient L: $445 out of $525 = 84% coverage. Total cost of $70 for 2 appointments.
How the reimbursement process works